About the AEL
 We have decided to participate as a certification authority of AEL.
What is AEL
The General Institute of Japan Foodist* Association was established AEL (Aquaculture Eco-Labeling) system in February 2014. Aquaculturists gain the label to let the consumer know the safety and the security of their aquaculture seafood product. This is also intending to promote the further development of aquaculture.
The Basic of AEL
1. A System that Meets International Standards
This system will operate on the basis of the "Technical Guidelines on Aquaculture Certification" that FAO (Food and Agriculture Organization of the United Nations) was established in 2011.
2. Certificate base on Fair and Objective
An independent authority will censor according to the principle of fairness.
3. Effective Certification with Low Cost
The operating cost of this system will bear in the actual cost which required the minimum cost. For this, we asked the cooperation from the administrative of country and prefectures, at the same time, from these research institutions and specialists in this field.
The Certification Standard of AEL
1. The Certification Standard for Production Phase

Aquaculture should be performed under the effective control system what had already established
Appropriate measures have been taken to preserve the environment and ecosystem

2. The Certification Standard for Chain of Custody

There is a management system to prevent the target seafood products from mixed by those products have no certification or some other contamination
The Scheme of AEL
The scheme owner of this system is "The General Institute of Japan Foodist Association". Different to the scheme owner, "NPO Support Center for Fishery Resource Improvement & Administration" is an accreditation body of AEL. Since "Japan Fisheries Resource Conservation Association" is a certification body of AEL, it's competence and fairness of investigation should be checked by the accreditation body of AEL. As a certification body, "Japan Fisheries Resource Conservation Association" will conduct the investigation in a third-party perspective.
Authentication Performance of AEL(japanese)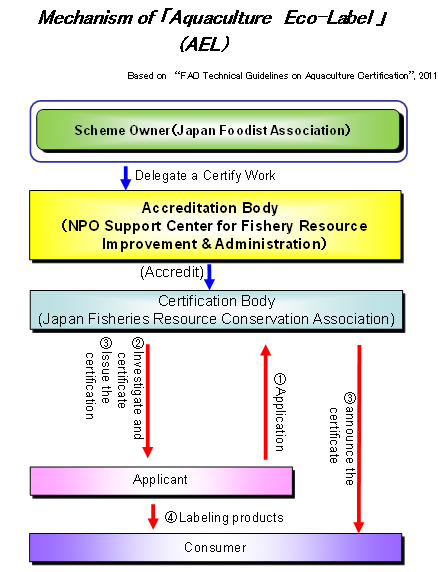 Cost of Certification Investigate
Cost of the certification investigate will be settle as the actual cost.
As the cost of certificate issuance, you need to pay 10,000 yen at the delivery year.
Cost of the logo management (yearly)
| | | | |
| --- | --- | --- | --- |
| 1. | Producer | | 10,000 yen |
| 2. | Processing and trading companies | | free |